Every year on June 11th, I'm drawn outside with my knitting: it's World Wide Knit in Public Day. Danielle Landes started it in 2005 to unite like-minded people. Instead of knitting alone at home, on this day, people should go outside to craft together. A day especially for us knitters, on which we can celebrate our passion together in public!
Since then, knitting groups worldwide have been organising events at different locations on WWKIP Day. People meet there to knit together outside and thus strengthen the community aspect of knitting. The first time I heard about this day was in O Porto. My friend Joana, who runs a yarn shop there, organised an event in the park. So, in the best weather, we gathered with our knitting and some goodies in the middle of the city. And knitted, laughed, chatted. A wonderful day!
Here in Germany, I don't have a knitting group and didn't find an event. But that didn't stop me from packing my knitting and going into town on Saturday, June 11th. Who knows, maybe I'd meet like-minded people in Osnabrück who would make their needles clatter in the bright sunshine...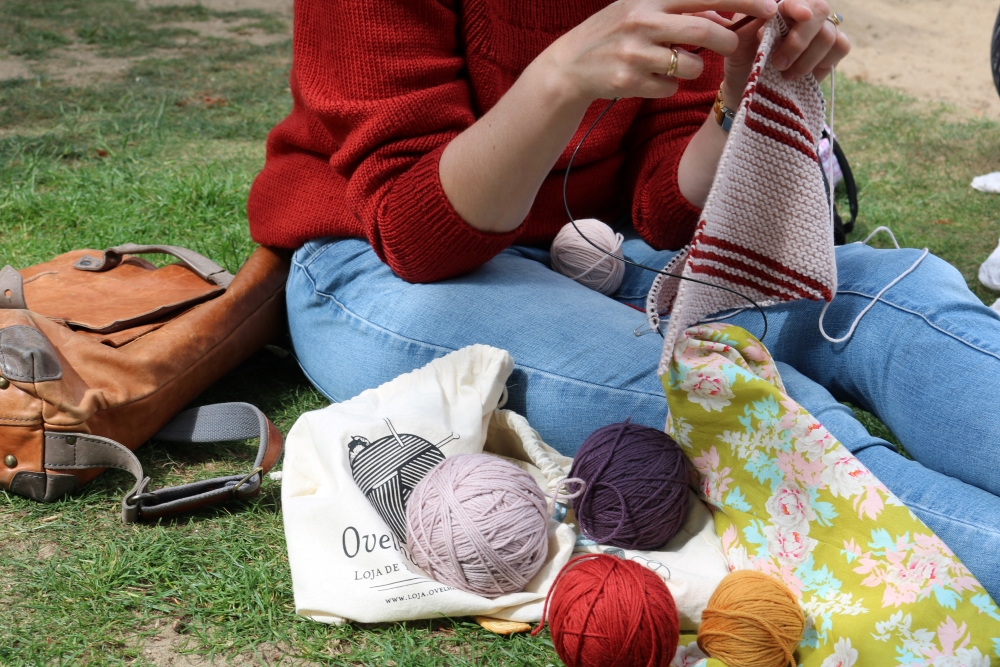 While my children were having fun in the water playground and my husband was watching them, I continued knitting my Tatto shawl, which I had started the night before. Garter stitch is always a good idea when you want to talk on the side. And that's what I was doing, sitting on the grass with other mothers. "I know how to knit garter stitch too, but it always ends up crooked... And how do you achieve the triangular shape?" - I was already involved in the first conversation about knitting and explained to my friend Nasi, who loves sewing, how to create different shapes with increases and decreases.
A few rows later, we set off together, further into the city. While I sat knitting outside a café and my friend photographed me from all angles, we attracted some attention. And that's how the next conversation about knitting came about.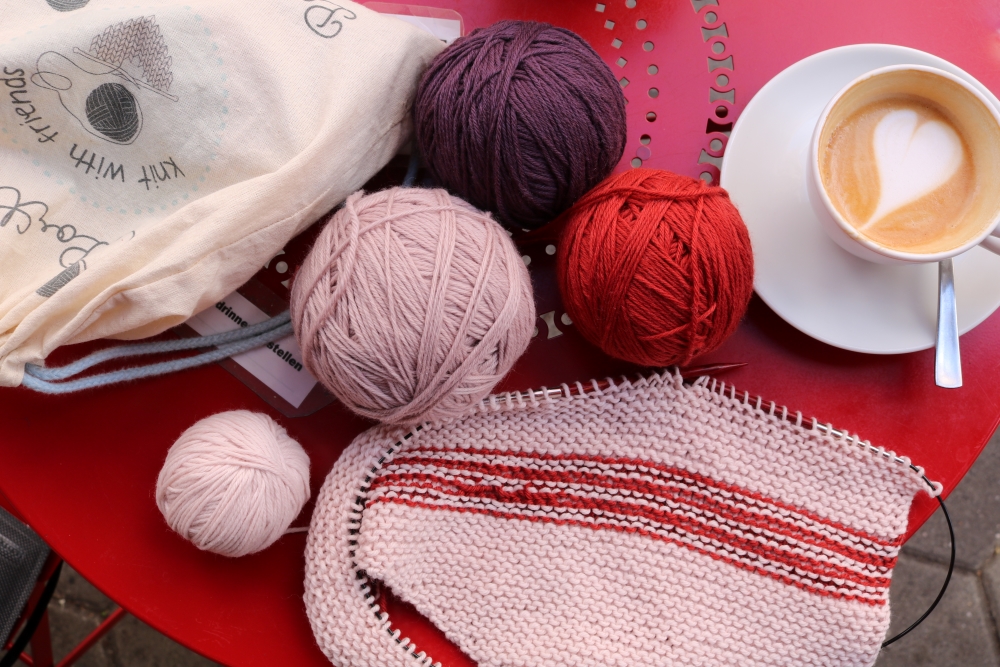 Kerstin, who was also having coffee there, told me that she also knitted, but mainly in autumn and winter. So we got to talking about summer knitting and the cooling properties of wool. She admired my sweater, which I had nicked from my husband, and which was admittedly a bit too warm on this June day. "But it's very nice! How do you make the yoke?" - and we were already immersed in the next topic. We went on like that for a while, and I was happy about this nice encounter.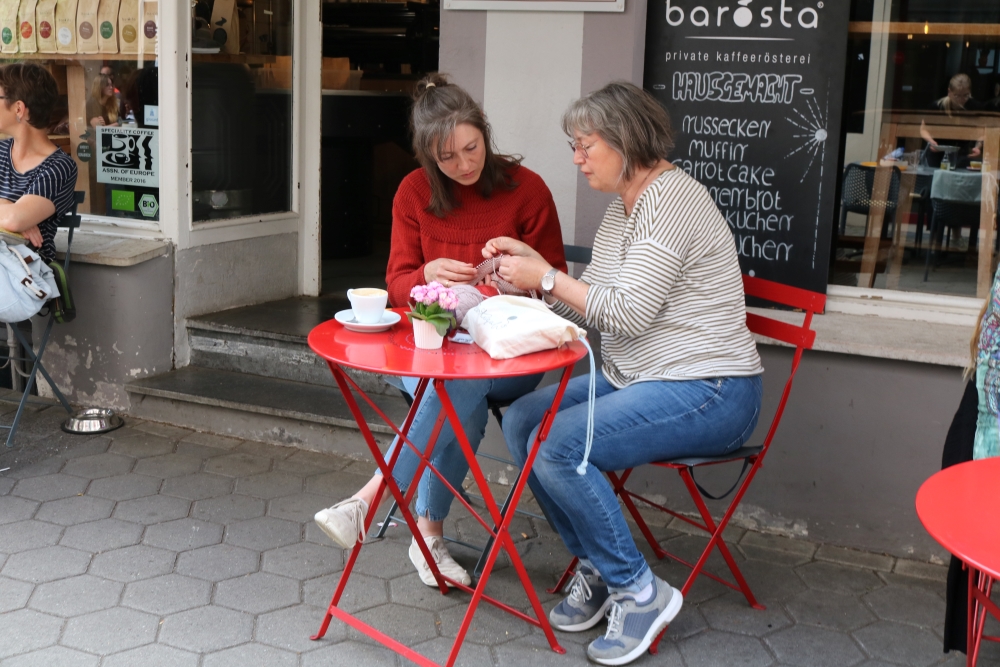 Afterwards, I walked alone through the pedestrian zone - knitting, of course. I heard astonished exclamations like, "Wow, she can knit while walking". Some people just looked, some smiled at me. And I smiled back on my exhilarating walk with more nice knitting breaks.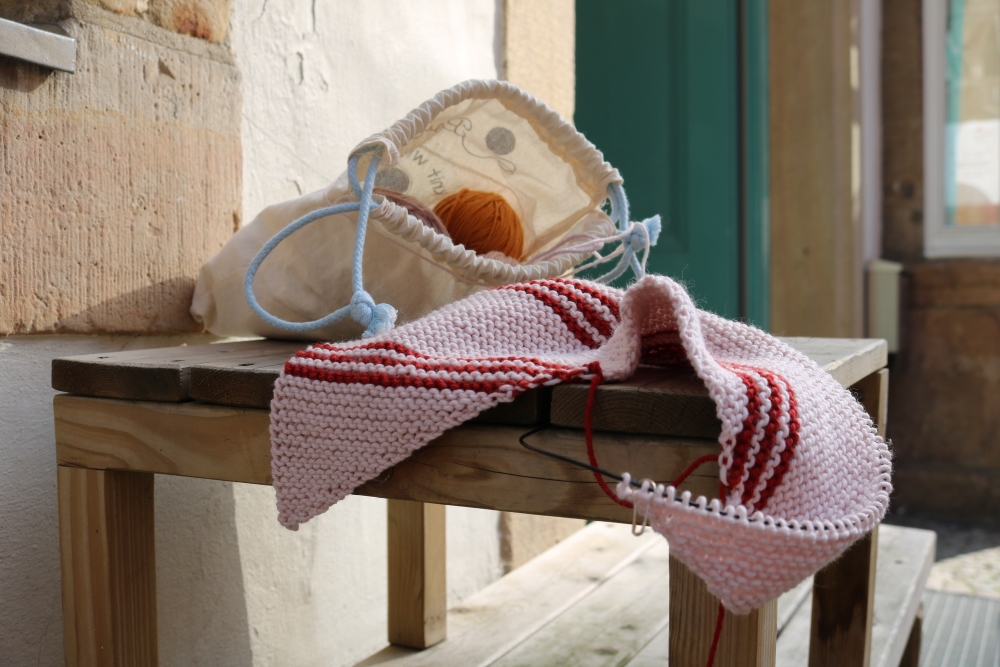 My Tatto shawl did not grow significantly. Nevertheless, the afternoon outside was a complete success: I enjoyed transporting the joy of knitting right into the city centre. And who knows, maybe next year I'll just organise a little knitting event myself....