"The most important piece of luggage is and remains a cheerful heart" - the German poet Hermann Löns is quite right about that. And the second most important thing is something to knit - at least when I'm on the road.
I used to travel a lot. I knitted during my adventurous bus rides in the Peruvian Andes or when we explored Botswana by jeep. The longer the journey, the thinner the yarn had to be so that as many metres as possible could fit into the luggage for knitting. Whether it was hours of travelling in crowded transport or another puncture somewhere in Africa - I always had something with me to keep me busy and relaxed. The time of my long-distance travels is now a few years ago. As a family, we now travel mainly by car and caravan or by train and like to take our bikes with us. And a cheerful heart. And of course, my knitting - that hasn't changed.
When I wrote about the World Wide Knit in Public Day, I already told you that I love to knit on the go - in this case the Tatto shawl from our Touch collection. I just find it fascinating to look for places where I can pursue my passion. When I'm knitting somewhere in nature or in a spot in a new city, there's such a sense of calm. Then I feel that I can really absorb my surroundings with a lot of joy and openness.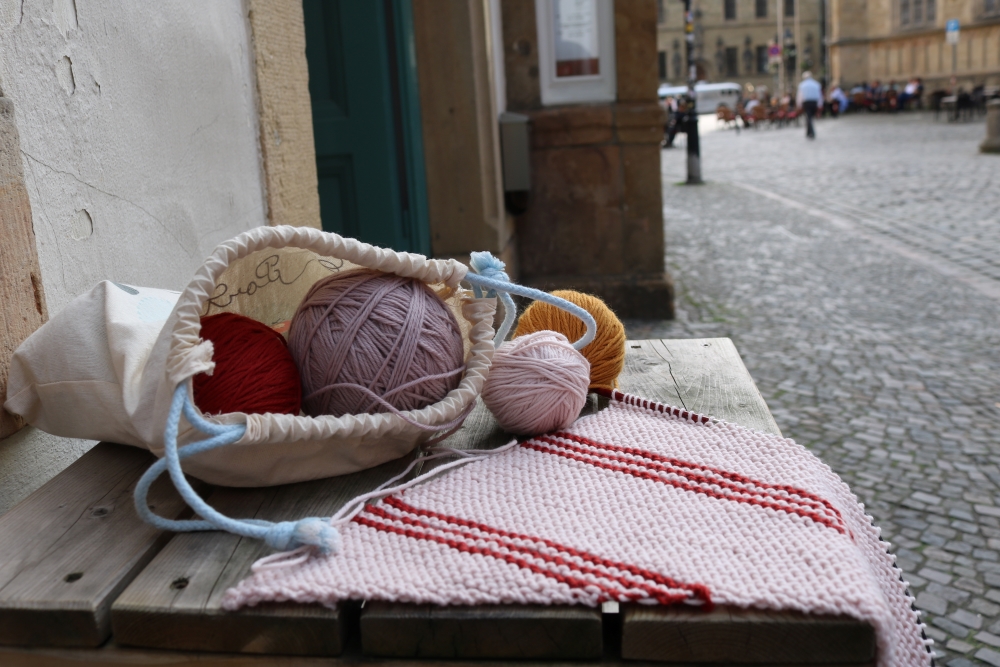 To outsiders, it may seem as if I miss half of the journey because I concentrate on the needles instead of the surroundings. But I myself have the impression that a place where I have knitted once touches me particularly deeply in my heart. Knitting makes the journeys even more precious to me. Moreover, I like it when my knitted pieces tell a story afterwards. They are no longer adventure stories from Africa or South America, nor are they love poems from "my" Porto. But the colours of the Uckermark and the sound of the Dutch sea flow just as wonderfully into a knitted piece. They tell of how beautiful it is close by, too. "A small journey is enough to renew us and the world," says Marcel Proust. Even at home, right outside my own door, there are so many wonderful things to discover. Just pick up the knitting and start walking. Explore new paths. And where it's beautiful, stay a while, knit, breathe deeply. A little time out from everyday life.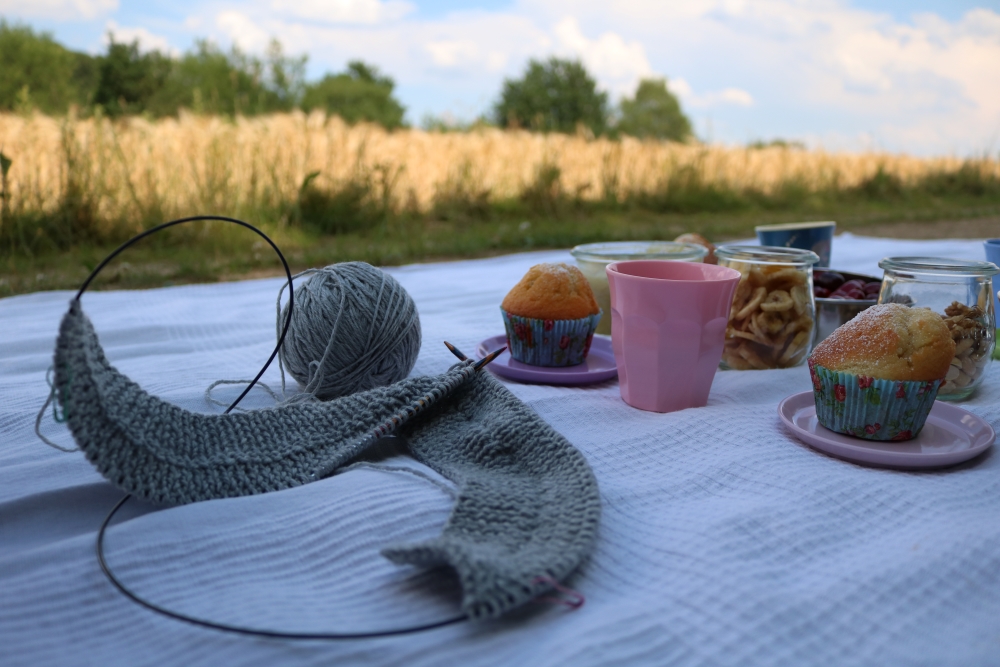 Maybe you too feel like a knitting trip, on a sunny afternoon or a warm summer evening? The other day I packed a blanket and some goodies, my knitting and my family. And then we explored a path between the forest and the field - and found a beautiful spot. While my kids romped around, I had a great knitting picnic with coffee, gorgeous panorama and lots of anticipation. Because I'm finally knitting myself a cosy jacket in my favourite pattern: the Anker's Cardigan - My Size by PetiteKnit in our Cheeky Merino Joy Melange Pure).
Every now and then, I find it nice to be on my own. The new German €9-Ticket came in very handy, and so I visited my parents by train. Travelling by train often brings surprises, and so I was well prepared with my knitting when the train cancellation was announced during the changeover. While there was annoyance at the platform, I was happy about the fact that I had been given an extra hour of knitting time. In the station café, I continued knitting the Festival Sweater for my daughter. The pattern is also from PetiteKnit and knit up great from our Lovely Merino Treat. Doubly relaxed, I finally arrived at my destination.
I wish you many wonderful knitting journeys too. Whether big or small, far away or at home - the main thing is that they make you feel good!